Halder Pukur :
The vast water tank at the northern side of the Yugi's Shiva Temple is known as Halder Pukur. Many sweet memories of the boyhood days of Sri Ramakrishna centre round this tank. On innumerable occasions, Gadadhar came here with his friends
and swam sportively there. The water of the tank has become sacred as Sri Ramakrishna, his father Kshudiram and the
Holy Mother used to bathe in it.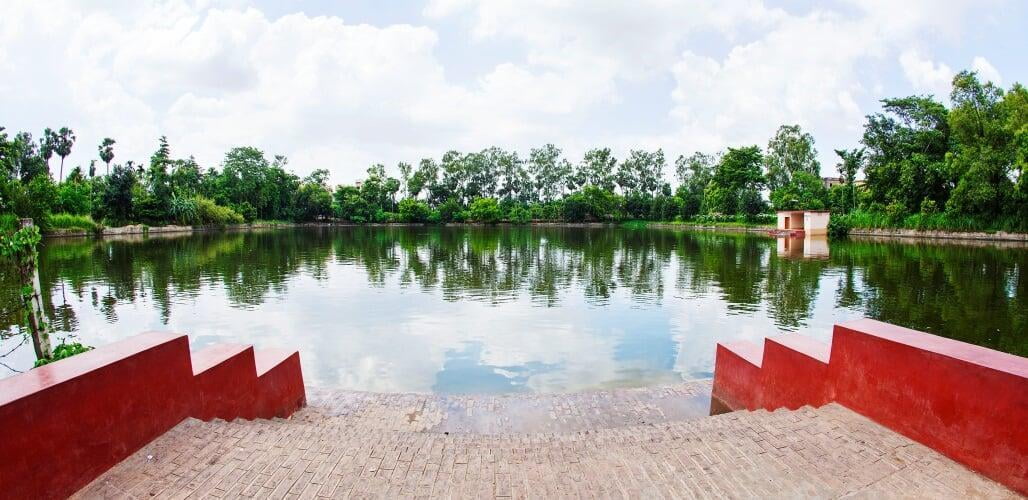 Lakshmijala :
'Lakshmijala' is situated to the west of Halder Pukur. It is a paddy field. After leaving Derepur, Sukhlal Goswami of Kamarpukur gifted Kshudiram Chattopadhyay a few huts of his homestead and also a small plot of paddy field measuring about half an acre which Kshudiram gratefully accepted and lived there happily. By the grace of Raghuvir, the land was soon producing so much rice that it became more than sufficient for the little family. The surplus was given to guests and visitors. Kshudiram hired the farmers to plough the field; when the seedlings were ready, he would transplant a few bunches while taking the name of Raghuvir and then talking to farmers to finish the job.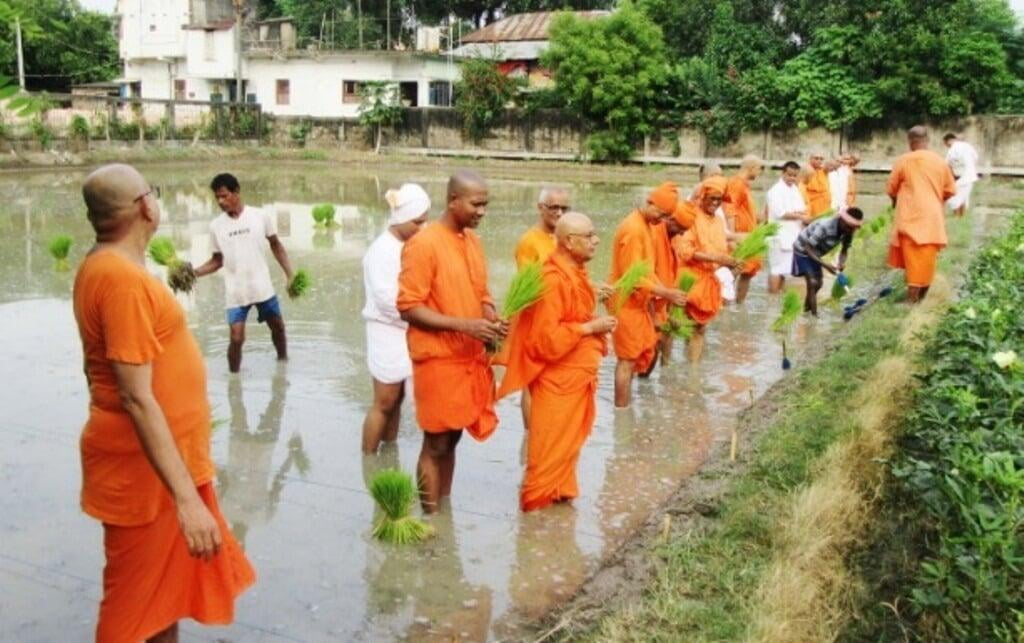 The Primary School of the Lahas :
The school was held in the spacious Natmandir in front of Sri Durga Temple of Lahas where Gadadhar used to take school lessons at his early age. In a short time he learnt to read and write, but soon his interest changed and he developed a tendency to get merged in ecstatic moods at the sight of beautiful scenery or in contemplation of particular deities. The boy liked the recital of the Puranas and the performance of village dramas more than his school lessons. His handwriting was good. The plays of Subahu and Yogadya which Gadadhar copied are still preserved in the Belur Math.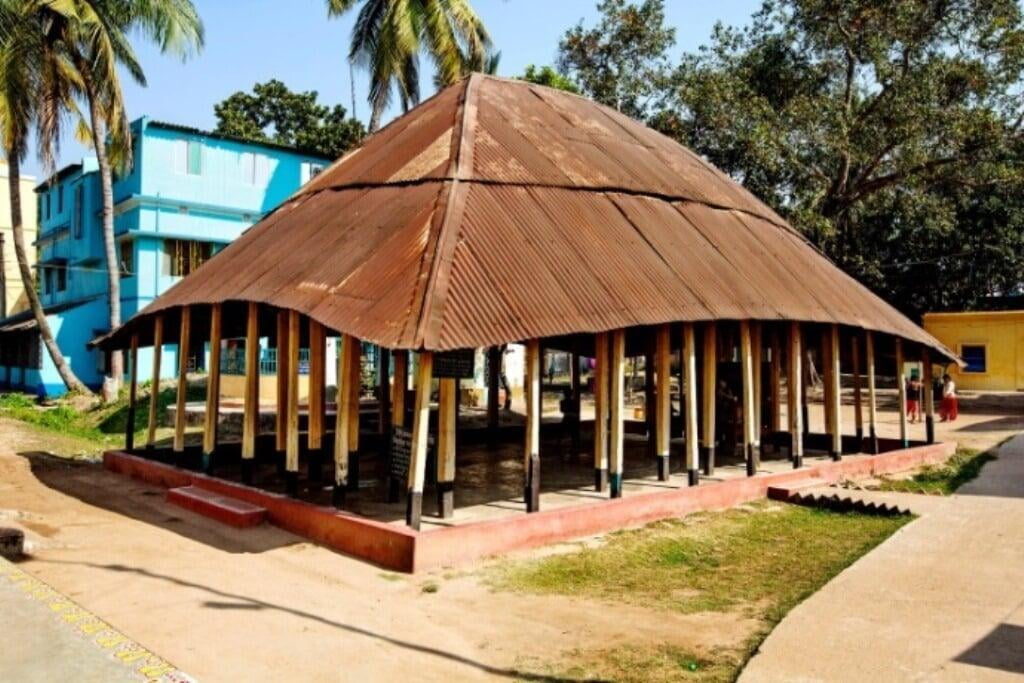 Temple of Gopeswar Shiva :
This ancient temple is situated to the east of Sri Ramakrishna's house. Either Sukhlal Goswami, who helped Kshudiram to settle at Kamarpukur, or his forefather Gopilal Goswami had founded this temple with a big Shivalinga. When Sri Ramakrishna was passing through ecstatic moods at Dakshineswar, his mother hearing the report that Gadadhar had turned mad, got alarmed and went to Gopeswar Temple, where she practiced hard penances to get the divine grace for the cure of her son's madness. Then she heard a voice directing her to do likewise before the Shiva of Mukundapur. As a result of her penances, she was assured that her son was not mad at all.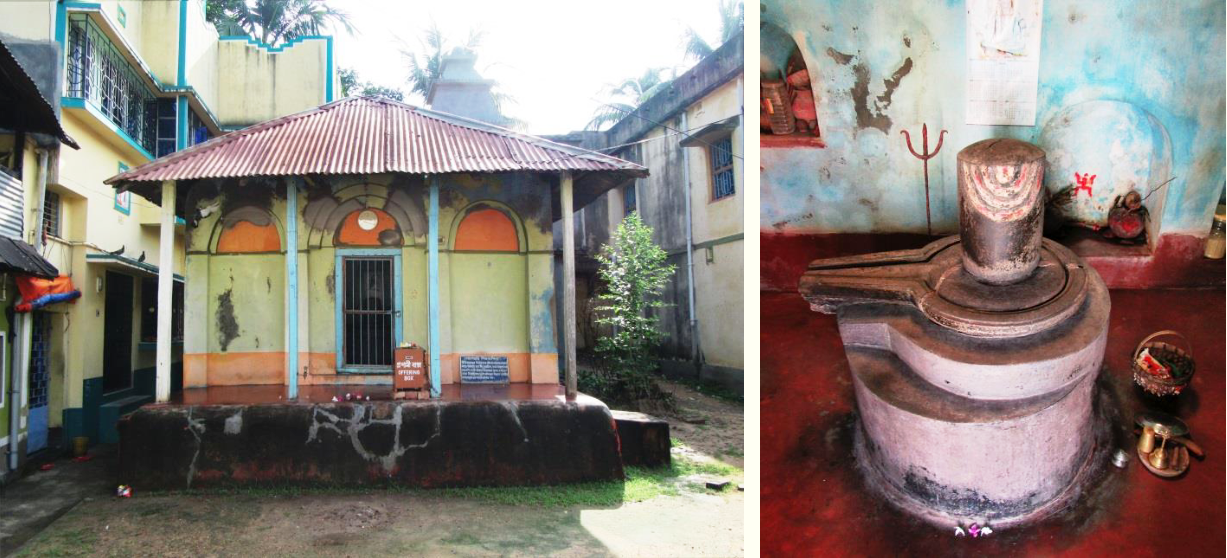 Sitanath Pyne's House :
Sitanath Pyne was a man of mediocre means. His house was to the south of the Lahas. Gadadhar used to go there in his boyhood days. When he was about 12 or 13 years old, he used to have ecstatic trances while singing devotional songs, or reading holy books like the Ramayana and the Mahabharata there. The women of the village then worshipped him as the embodiment of Sri Chaitanya or Sri Krishna. Once on the occasion of the Shivaratri, there was an arrangement for the performance of a village drama. As the boy was to act as Shiva fell suddenly ill, Gadadhar was persuaded to play that role. But as soon as he came to the stage decked with matted locks, Rudraksha beads and ashes, he fell into a deep trance which lasted very long and the performance had to be stopped.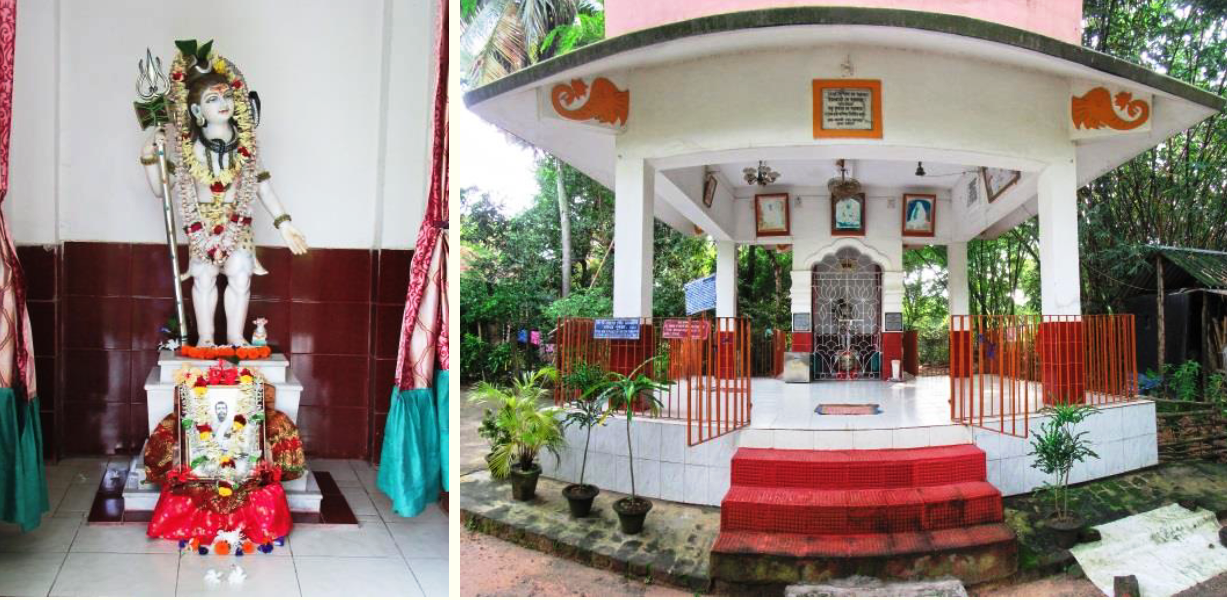 Budhui Moral Cremation Ground :
To the east of the village of Kamarpukur, lies the cremation ground. While staying at Kamarpukur, Sri Ramakrishna used to go there now and then to spend much of his time in contemplation.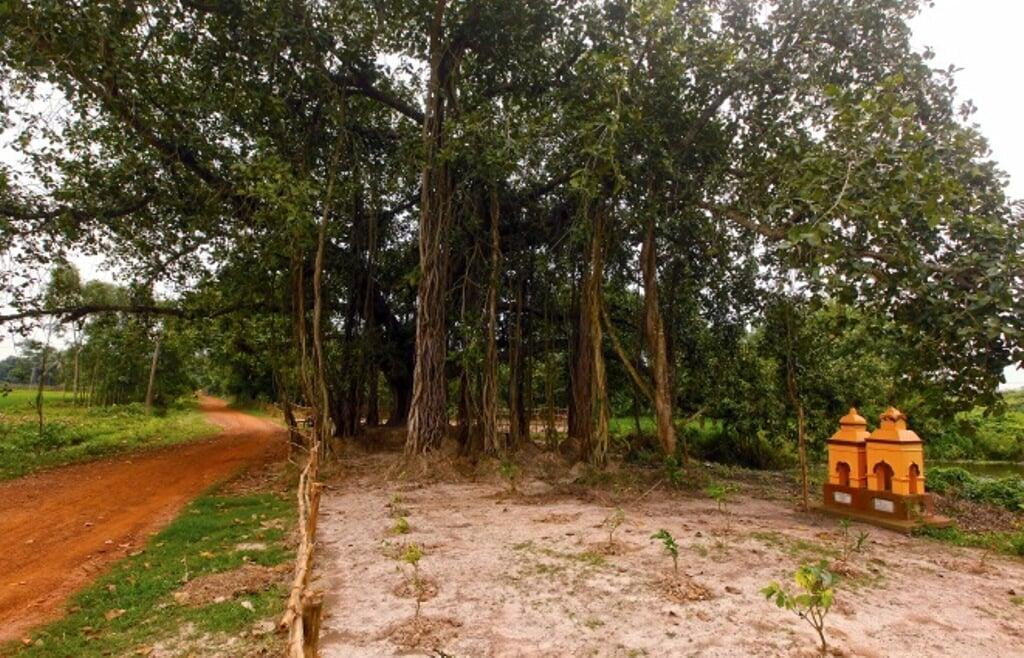 Cremation Ground and Banyan Tree at Bhutir Khal :
This cremation ground is situated at the north-west of Sri Ramakrishna's house. When Sri Ramakrishna came home after his strenuous austerities at Dakshineswar at the age of 22, he used to go there and to the other cremation ground (Budhui Moral) for spiritualpractices. There is an old Banyan tree under which he used to meditate during the greater part of the night. He also planted a Bilwa tree there.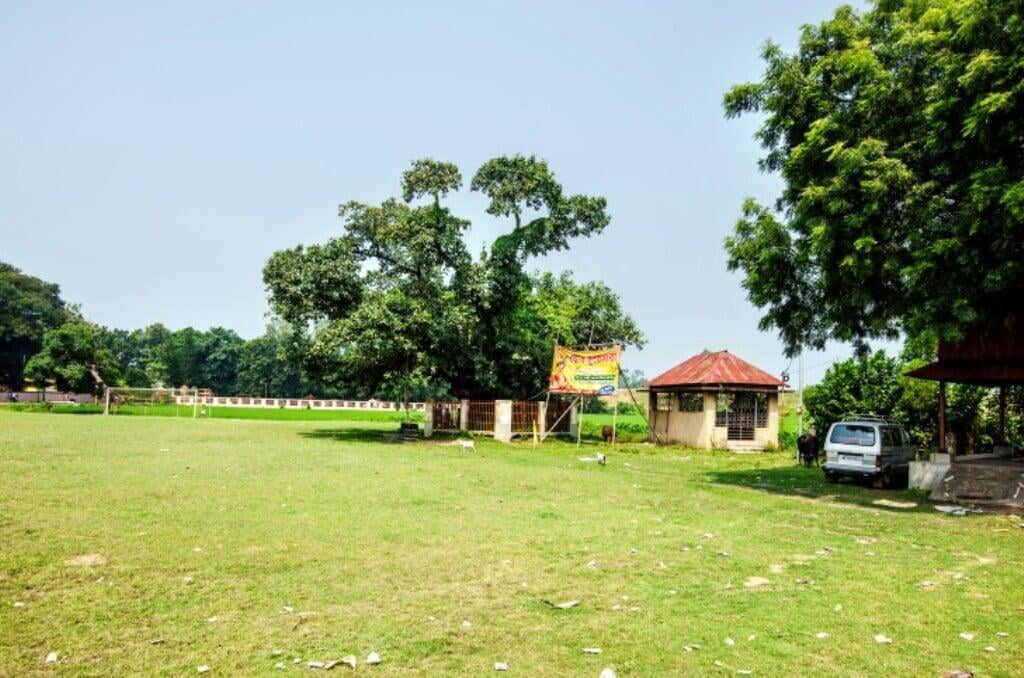 Dhani Kamarini's Birth Place and Temple :
It is situated to the south-east of the Sri Ramakrishna's house. Recently, a small temple has been built on that site by some devotees and also an oil painting of Dhani with the child Gadadhar in her lap has been placed. In that temple the photo of Sri Ramakrishna is worshipped. Once Boy Gadadhar promised Dhani that at the time of his investiture with the sacred thread he would accept alms from her. But it was contrary to that custom to accept alms from a non-brahmin on such an occasion. So his elder brother objected to it; but Gadadhar was adamant to keep his word to Dhani. And so he kept his word.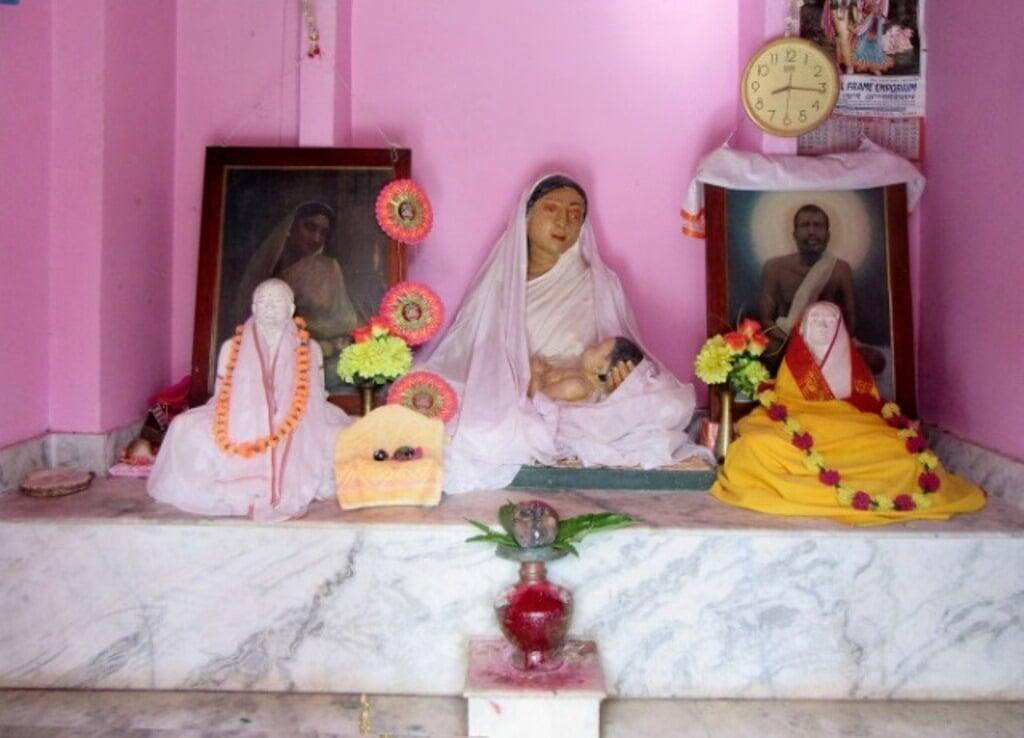 Chinu Shankhari's Birth Place :
Srinivas (alias), though not born in a high family, had great devotion to God. His relations with the boy Gadadhar was very sweet. He had a strong faith that Gadadhar was a divine being and loved him dearly. He was afraid that he might die before he could witness the unfoldment of his divine play. One day he fed Gadadhar with sweets and prayed for his grace. Even when Sri Ramakrishna grew up, he kept loving Srinivas. After his sadhana periods, whenever Sri Ramakrishna visited Kamarpukur, Srinivas spent his time with him in religious discourses. Later, the master often referred to his deepseated devotion and love. At present nothing exists at the site of Chinu's house situated to the north-east of the Sri Ramakrishna's house and is still being maintained by Ramakrishna Math, Kamarpukur. New construction is going on as "Chinu Shankhari's Memorial Building".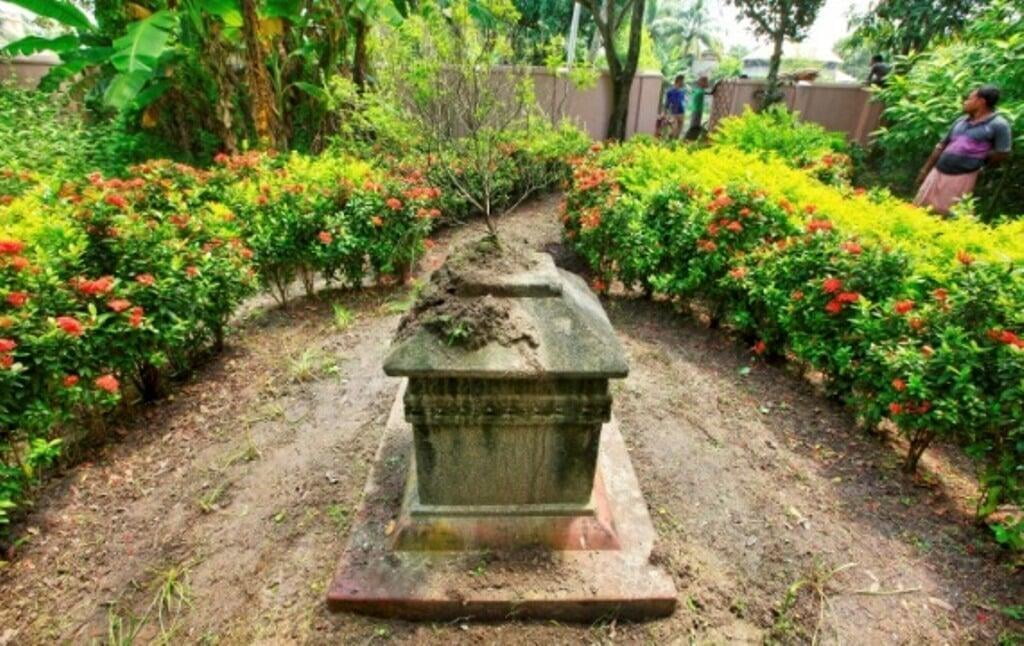 Mango Grove of Manik Raja :
It is very well known to the devotees of Sri Sri Thakur that in his childhood days a wonderful divine Leela has been enacted by Sri Thakur, Balak Gadadhar at that time in the pristine garden of Manik Raja, locally known as "Mango Grove of Manik Raja". He used to come with his mates to this serene place full of mango trees and started doing rural plays theatres on different mythological stories of Sri Krishna and Rama. It was he only who used to lead the village boys group and often their performance resounded throughout the verdant mango orchard.
To restore the old memories, we have located this sacred leelabhumi of Sri Thakur and the exact plot where the divine plays were enacted. We have undertaken a project to recreate the mango orchard of Manik Raja.
As you are aware that on the auspicious day of Jagannath Rath Festival i.e. on 14th August 2018 we have performed the foundation laying ceremony by the hands of Srimat Swami Vimalatmanandaji Maharaj, Adhyksha, Ramakrishna Math (Yogodyan), Kankurgachhi, Kolkata.
Palace of Manik Raja :
Manik Chandra Bandopadhyaya of Bhursubo Village was renowned in the area for his great benevolence and so he became known as "Manik Raja". To the west of Bhutir Khal he reared an extensive mango grove for the public. His garden became the playground of Gadadhar and his friends. With the passage of time it has become a paddy-field, with only a few mango trees standing here and there as a reminiscence of the past. There are many other incidents mentioned in Sri Sri Ramakrishna Lila-Prasanga about the intimacy of Gadadhar with Manik Raja.